PANTONE'S COLOUR OF 2018
As 2018 is now upon us, so it's the new Pantone's Colour of 2018 Ultra Violet and what an awesome colour!
This vibrant and dramatic colour is getting us really excited about creating our couples dream weddings.
It boasts bright rich hue that blends effortlessly with a multitude of colours working as the main shade or as an accent.
In 2017 we saw loads of lush greenery with soft florals such as hints of white garden roses and unique table centrepieces of gold metal. The trend is still on point and adding a touch of flair with striking Ultra Violet, succulents and violet glassware adds an extra level of sophistication and bringing you on trend in 2018.
Ultra Violet Weddings
This year we are already seeing our couples come to us with loads of beautiful ideas to incorporate the colour of 2018.
Below is some ideas we have put together to keep on trend, fresh and Ultra!
Wedding Bouquets
A wedding bouquet should always compliment your style of wedding, your dress and your personality. We are in love with these beautiful fresh sytles we have found on Pinterest.
Pinterest is an amazing app to use when planning your wedding. By saving your favourite styles, colour schemes and ideas in one location its an event stylists & florists dream when our couples come to us knowing with their style. It gives us insight of the the couple, the type of wedding and use our own unique ideas to make it theirs.
Images: Pinterest
Photo Booth Fun
We all love a photo booth that is on trend, matches the colour schemes and loads of fun!
At Sharebooth, we provide you an online styling guide so you get to choose the colour of your backdrops, footer designs and much more! Our service is simply about our customers and what will suit your event.
Contact us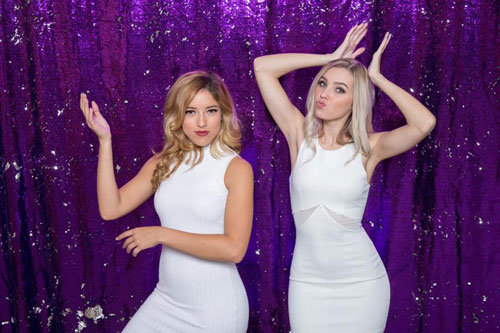 Party Time
Its not just about the weddings thats keeping on trend.
Celebrations in 2018 are on the rise and everyone is making a statement no one can forget. Adding simple pops of colours to an event will have people oozing and talking about it for days!
Ultra Violet is all the rage right now with many events boasting regal dessert displays featuring the majestic colour purple and it's shades such as lavender and violet. Purple lends a dash of style and chicness to a dessert tables and the look is simply divine.
Images: Pinterest
Balloons
This year we are seeing an awesome comeback on balloons and seeing many creative designs and organic garlands.  The balloon artists are so clever in the way they make these balloons come to life and gigantic.
When you see them in front of you, you cannot help but have yourself picking up your jaw from the ground thinking how did they do that!
Beautiful rich colours or purples, violets and splashes of gold set the mood and glamour for an amazing display.
Photo from Pinterest: shivooballoons
If you have an event coming up and love these colours, our sister company can also assist you with a range of services including fresh/ artificial flowers, dessert stations, event and wedding styling, wedding ceremonies and more.
Contact us at
NPM Events
. We would be delighted to style your event.
We are located in Sydney and also servicing Newcastle and the Hunter Valley region.
At NPM Events, we work with some wonderful talented vendors in making your event one to remember!
We promise that your guests will be 
instagramming 
away – your event will need its own hashtag!